West Genesee CSD Launches Mobile App for Android and iPhone
POSTED ON MAY 16, 2013
West Genesee Central School District App makes information accessible via mobile device for students, parents, staff, and community
To access West Genesee Mobile App How To's....click here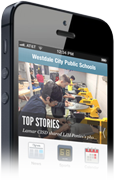 Camillus, NY, May 16, 2013, -- West Genesee Central School District announced today the launch of its West Genesee App, an all-in-one information source for parents, students, staff, and community. Created by ParentLink, the app was developed specifically to provide direct access to the District's most sought after information in the most convenient format -- your mobile device.
Recognizing trends in social technology and the unprecedented use of smartphones and tablet devices, West Genesee has elected to become part of the mobile sphere to better connect and collaborate with the majority of their stakeholders. West Genesee is one of the first school districts in the state of New York to offer a mobile app for their parents and community.
"Our choice to go mobile goes directly back to our District mission to improve student performance," said Dr. Christopher Brown, Superintendent of Schools. "Enabling our parents and students to connect with the district in real-time, at their own convenience magnifies engagement. We know this resource will help in terms of transparency and parent interaction."
Other app features include:
District and school news, allowing the user to select which schools and district news feeds they want to subscribe to
Push notifications for the District/School to send out instant alerts to the user's mobile device
Sports scores, schedules, and links to sports sites
Calendar information for schools and district events, including the ability to add events from school calendars to the user's device calendar
A tip line tool for users to provide the District with suggestions, security issues and other important information
School and district directories and maps
Contact information for teachers, administrators, and other staff
Links to the School/District's Facebook, Twitter & Blogger Sites
Superintendent updates with the latest communications from your District leaders
"We know all parties -- students, parents, community and staff-- will find great value in this app," said ParentLink President John Graff. "We are excited to provide the West Genesee community with a mobile resource to make collaborating with their local school, an enjoyable and easy part of their busy schedules."
The West Genesee App is free for users and available for immediate download on iPhone and Android devices.
ParentLink mobile apps, branded specifically for each organization using the service, are in use at school districts across the country. For more information about ParentLink Mobile App Services, please visit: http://www.parentlink.net.